Airports in Germany
21 July 2015
Getting to Germany via plane means knowing where the international airports are (and which airlines fly which routes to which airports).  
Thanks to Lencer on Wikimedia we have the following pictogram for you.  
Red are the international airports, and the larger the plane the more flights there are per annum.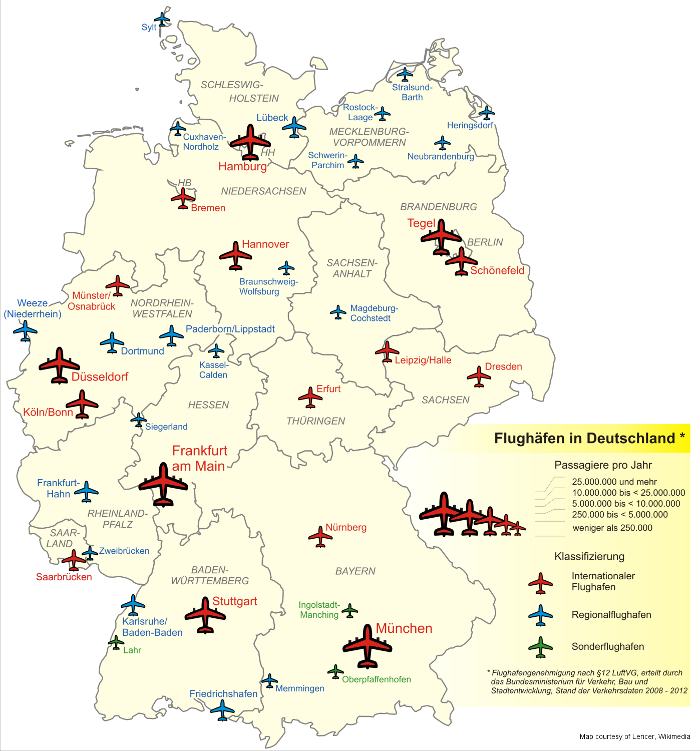 Here are the links to all the INTERNATIONAL AIRPORTS for your researching pleasure:
Berlin - Tegel
Berlin - Schoenefeld
I don't know if it will be the same for everyone but we found that flying into Stuttgart (from New Zealand - which for us is always via Frankfurt) was more expensive than flying to London and from there directly to Stuttgart.
You may be interested in Skyscanner which is the website we've been watching to compare airfares.  It aggregates the flight prices of a variety of different airlines and online vendors for the route you search and the day (or month) you want to travel.  If there is something there that suits you can click-through to the relevant website and book directly.
| | |
| --- | --- |
| | |