How little I know about horses
06 February 2014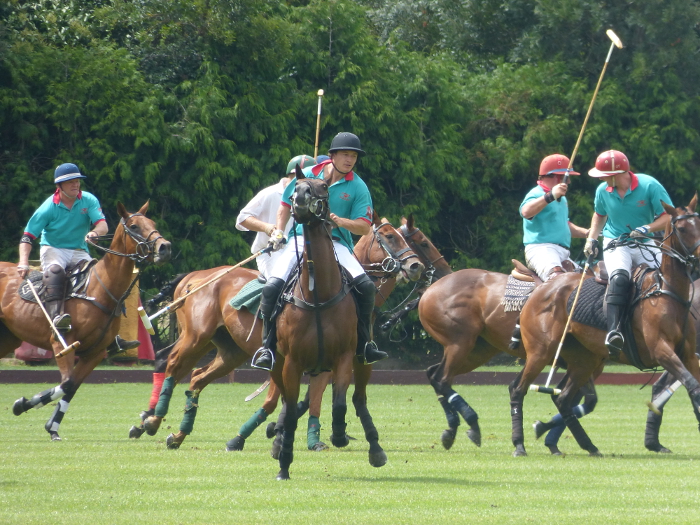 Last week I received an email alerting me to polo being played on the out-skirts of town - grounds we'd never been to before but we discovered were also a function centre.
Being that the children do occassionally enquire about when the next horse races are, I thought it might be interesting to check out exactly what polo was about.  Up until then we only knew that it was about a horse, a bat and a ball; and it was a favourite royal past-time.  I was surprised that the game was even played in New Zealand.
We braved the inclement weather on the Friday and Saturday of the 4-day national event (Dewar Cup), blocked our noses and side-stepped the horse poo to take a side-line position.
A lovely gentleman handed us a programme; and another woman heard me reading the game information out of it to the children and made us feel welcome.
So what we know now, is that it is a game of 4 riders/horse per team; and 2 umpires.  There are 4 x 7.5 minute sessions (chukkas) with breaks in between to change horses.  Once a team has scored into one goal the goal ends switch.  Two of the riders play attack and 2 of them defense.
We watched a variety of games - slow and fast; compèred in a variety of different styles.  The guy who tickled our fancy though was the 'gorilla' guy.   He was describing how the ball disappeared from his sight (as it was being played a long way down one end of the field) and said "it's disappeared like a gorilla.... in the mist" [pause] "as I would expect a gorilla could disappear into the mist quite well" [pause] "after he'd mauled you".  Totally tangential, but humourous, and it made you listen!
Vega and Gemma got to sit astride a mare (female horse!) and Gemma even got led around a little.  Gemma was all excited after that first day and rushed home to hunt out suitable horse-riding gear (we had made 'historic' jodphurs a couple of years back as costumes).  There was a little talk about the girls being offered riding lessons on a farm 45 minutes out but we will see.  It would of course be easier if it weren't so far away but "you don't kick a gift horse in the mouth", do you ‽
The girls were a little taken off-guard about being asked if they wanted to learn to ride, which surprised me, but once I understood their reactions it all made sense.  They had never contemplated being able to because of the cost of lessons & gear and not having access to a horse either.  Vega didn't want to end up a horse fanatic like a friend of hers.  They just hadn't thought it would ever be a reality.  It made me wonder what opportunities in life we do not embrace because we have no forethought of them; and how do we get ourselves from being on the back foot to being open to stride into something completely new.  It is far easier if someone we trust is leading us gently, and reassuring us, for sure, but moreso I think it is an attitude within that says 'yes' to life.