Meals on the move
09 January 2014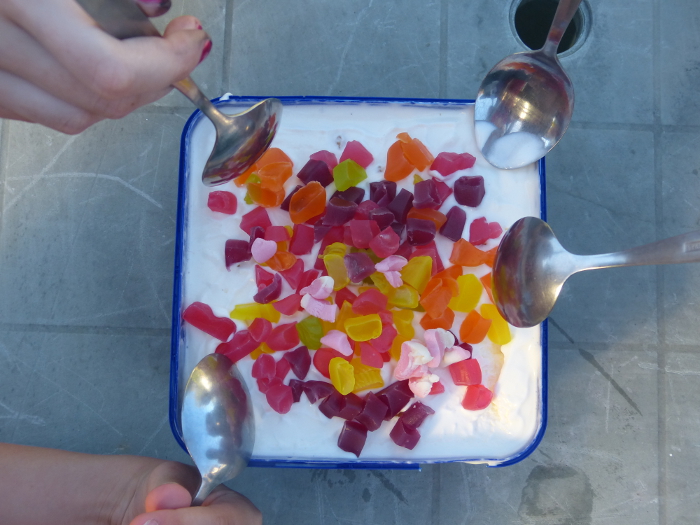 As a follow-on from our going-out basket post, here are some ideas for a (supermarket or grocery) lunch on the run.  You could even use the ideas for a quick, shared work lunch with colleagues.
Green salads - you can buy all the individual ingredients; pre-washed leaves; or many supermarkets have salad boxes with all the extra ingredients ready to toss with the lettuce and dressing.  How about one or two of the following: feta, smoked or cooked chicken, cherry tomatoes, diced cucumber, chopped frankfurters, sun dried tomatoes, diced salami, tinned tuna (with pull-tab lid), mushrooms, olives, avocado, grapes, alfalfa sprouts, salmon, parsley / basil, or capsicum?  Mete out the ingedients into each person's plate and they can toss them at will.
Other salads may be available from in-store salad bars.  Countdown had a decent potato salad that we bought by the bagful before it got a little expensive for our family's size. 
Bacon & egg pie or quiche.  If you like yours cold this could be a compliment to the salads.  Just make sure to eat the lot immediately or have a cold box ready for any leftovers.  We don't want you getting food poisoning.
Filled rolls or buns or whatever else you can stuff fillings between: ciabatta, croissants, cobs, loaves of fresh specialty bread, french sticks, pita pockets, tortillas etc
As for the ingredients, think about something fresh, flavoursome and moist. Some of these ingredients cover more than one category:
| | | |
| --- | --- | --- |
| Fresh | Flavoursome | Moist |
| Lettuce | Pastrami | Hummus |
| Coleslaw | Salami | Cream cheese |
| Gherkins | Smoked chicken | Tzatziki |
| Tomato | Ham | Dip |
| Capsicum | Salmon / Tuna | Baba ganoush |
| Cucumber | Curried egg salad | Sweet chilli philly / Salsa |
|   | Camembert / Brie | Avocado / Guacamole |
|   |   | Pickle/relish |
Antipasto platter - any raw vegetables, and a sliced delicatessen sausage or two.  Use any of the 'moist' ingredients above as a dip, or try a mixture of half sour cream and half pickle or relish.  Any leftover vegetables can be used in a stirfry back at home.
Fruit salad & dip.  Who said lunch had to always be savoury.  Occasionally we get a selection of seasonal fruit that can be cut up into bite sizes, and dollop some thickened yoghurt or the like onto each person's plate.  Marshmallows are nice too, and for extra decadence sprinkle a portion of flake bar over everything.
Ice cream.  This one is a treat, moreso for afternoon tea on a really hot day, and only if you are comfortable sharing.  A 2-litre tub of ice cream.  That's it.  No bowls, just spoons.  Plonk the container in the middle of a picnic table rather than the grass, for easier 'controlled' access.  Goody Gum drops works well as long as you don't mind the boasts from those who are counting their catch.  We like Brent & Toby's as they are affordable for a treat and more natural than the rest (our local supermarket doesn't carry it though and I couldn't find a website online for them either).  The photo above is Tip Top Hokey Pokey with The Natural Confectionery Co's Lolly Disguises that have been cut up into small pieces, after most of the 'teeth' were eaten straight from the packet.  [The baby's ice cream is put aside into a bowl.]
For an evening supper, or even a date night - exchange the water bottle in your going-out basket for a thermos of hot chocolate (and marshmallows), Turkish apple tea, or your favourite hot beverage.  Pack some fudge or chocolate and you are ready to go!
Lunch doesn't have to be complicated, but it will work out cheaper than fast food, cafes, or bakery lunches.   What are your thoughts?
| | |
| --- | --- |
| | |