@nzsecretsanta
21 December 2014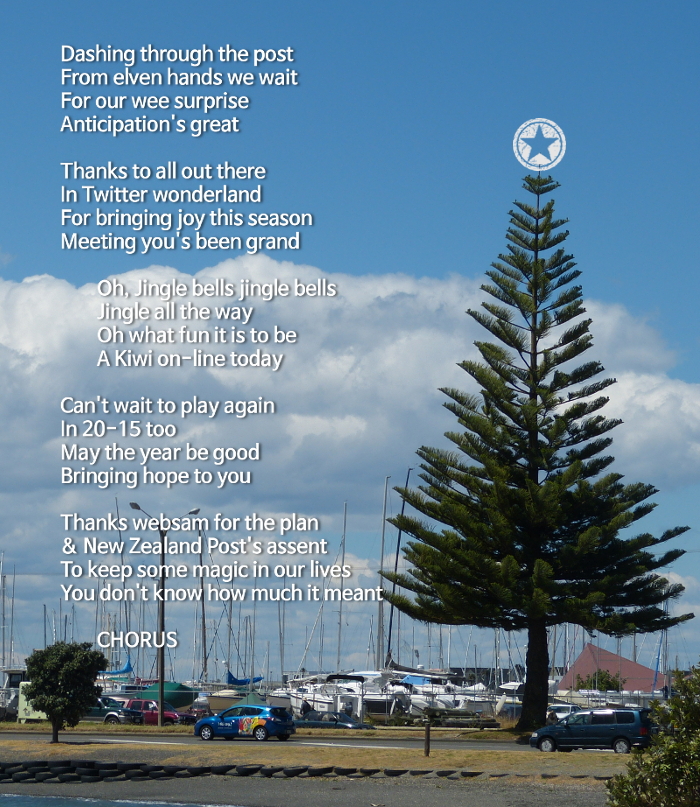 It's been a while since I've really felt and assimilated the magic in Christmas.
Then I chanced upon the NZ Twitter Secret Santa now run by NZ Post, the day before the second cut-off.
Neither Atlas nor myself have played any sort of secret santa swap in our work lives and it was a bit of a learning curve.

So I thought I'd save others fumbling around in the dark of what to give and with @nzsecretsanta etiquette by jotting down my observations.
You start by finding out who you've been nominated to gift to.  Sleuthing one's recipient (aka good boy or girl - gbg) by reading their conversations was right up my alley.  I like finding things out.  In some instances it was frustrating not to be able to confirm my suspicions 100% due to an under-whelming number of tweets but that's just the luck of the draw.  Our gbg had just 2 posts on Facebook too.  
As part of being involved in NZ Secret Santa you also stumble upon other folks on Twitter.  There were tech geeks, mums, teens / hipsters / fandom followers, media personalities, crafters, drinkers / swearers,  animal-lovers, fashionistas & socialites, & sports supporters to name a few.  The ones I was especially taken with were the community-oriented and not-for-profit organisations that people were part of - @cafecrave, @head2headwalk, @thefreestorewgn, & @justzilch.  In fact I've set up lists on our Twitter to add similar groups to, as we come across them, in each of the regional areas in New Zealand.
All the researching of others does make you feel somewhat exposed and I did wonder what others thought of us, especially our secret santa.  What deductions had they made as we write more about experiences and information than personal thoughts and banter?
After the initial information-gathering, you decide on an appropriate gift.  Everywhere I went I saw possible gifts for our gbg and it was an exercise in self-restraint, common sense and budgeting not to go overboard.  We knew our gbg had 3 other family members - a 2 year old boy, a 5 year old girl and a husband so included something special for each.  What I really wanted to do was add value to our gbg's gift by personalising or making/crafting something but didn't know if this was acceptable so largely kept to commercially-purchased items.  I have since seen that hand-made, personal and even pre-loved can be appropriate gifts if that is what your gbg is into.
Then you send it in to santa's storehouse at the Auckland International Mail Centre.
An added development this year meant that gifts could also be sent to other people who were not your gbg, so we chose and sent in an additional 4.
These were easier than our gbg as we were able to start with who we could identify with from their profiles & tweets, so were more likely to understand what might be a useful gift. [As a sad aside, the Twitterers are probably easier than extended family to buy for as they put their likes and dislikes out there whether directly or indirectly so you can feel as if you know them.]
It should be noted that NZ Post bore the onward cost of couriering all 2618 + items out from their santa storehouse.  Secret santa's only paid for the postage (or courier) to get it to Auckland.  NZ Post even offered free tracking on posted items to them.  We are grateful to NZ Post and know our extra gifts were probably an unanticipated development of the event and therefore an added out-bound cost.
Oh, and NZ Post were to donate $1 per player to the Christchurch City Mission, but ended up doubling that and rounding it up to $6000 - way to go!
After that you wait for the gifts to be sent out; and when yours arrives you post a photo of what you got to Twitter.  A very few save opening their gift until Christmas day, others are delayed by having it sent somewhere they are traveling to after dispatch, but the majority open their gifts immediately
 
Without further ado here are some of the most ORIGINAL /  SPOT-ON / our TOP PICKS gifts gbg's received:

The most POPULAR and / or GENERIC gifts fell into the following categories:
Drinking wear and gear
Books / magazine subscriptions
Chocolate, coffee / tea & accessories, sweets, & food
Lego, Mr Potato head, Dr Who, Star wars, Super heroes
Body & beauty products - scrub, lotion, nail polish, mask, soap / bath oil
Candles
Gift cards - food establishments, movies, ...
Donations to causes and charities
Cat / dog / chicken / animal stuff: anything for their pet or with their favourite type of animal on it
Jewellery - necklaces, pounamu, wrist bands, earrings
Games, puzzles, jigsaws
Mugs & baking accessories
Nostalgia - tapes, old newspapers
'Keep calm' merchandise
T-shirts & socks
Sports - equipment, books, memorabilia
Moustaches
Stationery - pens, notebooks, colouring pens & books
Guide books, travel diaries, passport covers, foreign foods
Music-related
TV / movie things
QUICK SUMMARY:
Put yourself in your gbg shoe's - ask "What would I like to receive?".
Think about how you could personalise their gift.
Crafted gifts are great.

Experiential gifts are good too.
Pre-loved is fine if that is your gbg's interest.
Re-gifting is okay - ask yourself if you'd be excited to receive it though.  If not, don't send.
Many secret santas exceed the $10 gift value - this doesn't mean you have to.
You can follow / favourite your gbg but it might give you away if they have few others.
Think outside Twitter for your research too - Facebook, Instagram, Tumblr, blogs, general internet searches etc.
If your gbg isn't good, your gift for them is re-directed to charity (under 8% were bad santas in 2014).
Remember your manners.

You do not have to reveal yourself if asked.  There's something magical & humble about keeping it a secret!
For information on how to participate see NZ TWITTER SECRET SANTA
P.S. I wanted to title this post 'How to lose several days of your life' or something similar; as there is nothing more addictive than watching the Tweet wall and seeing the gratitude, OMGs and effort of the other secret santas.  It was a feel-good injection reminiscent of Telethon (for those old enough to remember).  Seems like I wasn't the only one ;)

P.P.S It looks as if our gbg wasn't able to send something in on time, so missed out on our gift for them and their children.  Really disappointing.  Thankfully we got to surprise some others though. 
This is what our not-so-secret-santa gifted us ... a scratchable map and a NZ tea towel.  A bit of an education really as I hadn't noticed all those native flowers before.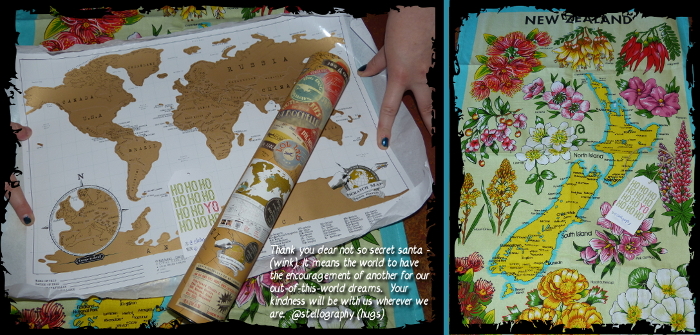 Thank you secret santa and thank you NZ Post.  Merry Christmas!
| | |
| --- | --- |
| | |