Splish splash!
27 February 2014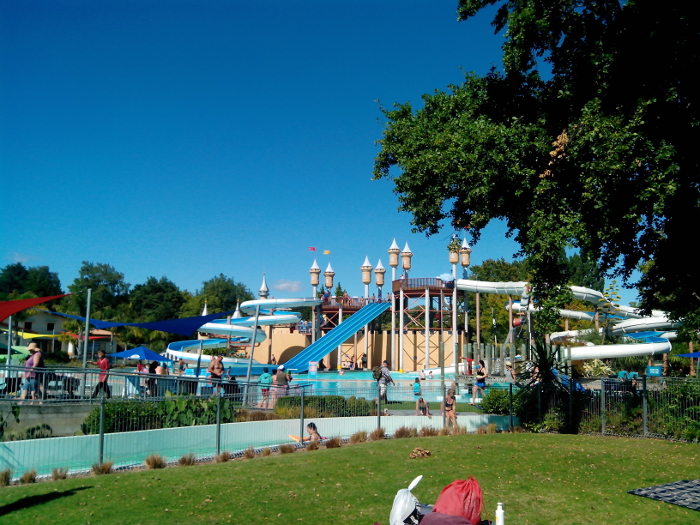 Once a year for the last 4, we have had the privilege of going to Splash Planet, courtesy of the hard work that Parent to Parent do, to underwrite all or most of the funds for the family outing.
It's not until you all get there, after the masses of preparation and anticipation that you realise how desperately you need a break from the 'real world'.  
This one gesture of support from P2P gives you a boost, that all the work parents put into managing the disability their child has, does not go unseen - even for just a day.
No phone calls (well only one or two), no couriers, no squabbles over tidying rooms, no housework, just the pure opportunity to be together as a family.
While Atlas and I didn't hit the water ourselves for enjoyment we were sure put through the paces by the children wanting to go in all different directions to the attractions.
Bumper boats, Go-karts, Kayaks, Tiny Town, Mini Golf, Merry-Go-Round, Jungle Jeeps, Flying Fox, Train, Pirate Ship, Spa Pool (actually nothing more than a tepid indoor pool), Lazy River, Tube rides, .....
This is Tiny Town - a place for children 7 years and under.  Kita sat on a ride-on outdoor bike and in a ride-in car for the first time here.
There is seating in the middle of the circle of tiny buildings for parents to chill while they watch their children whizz around them.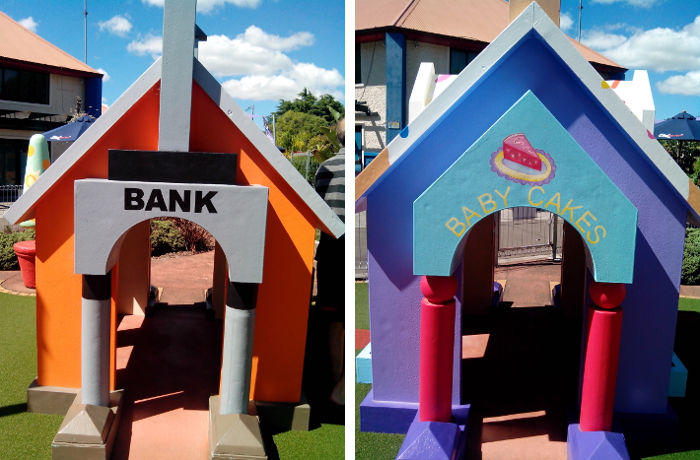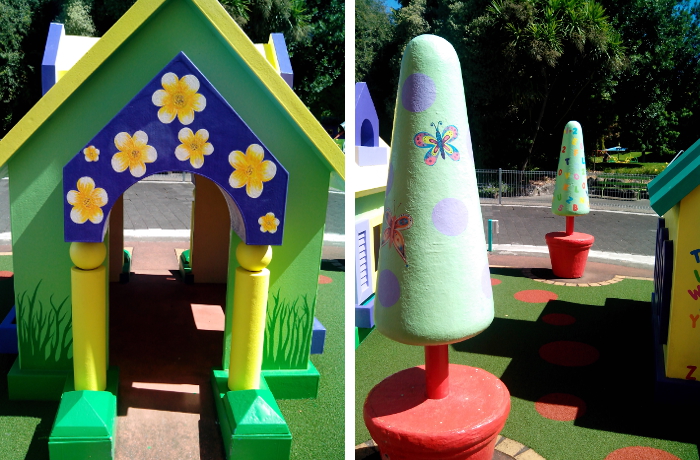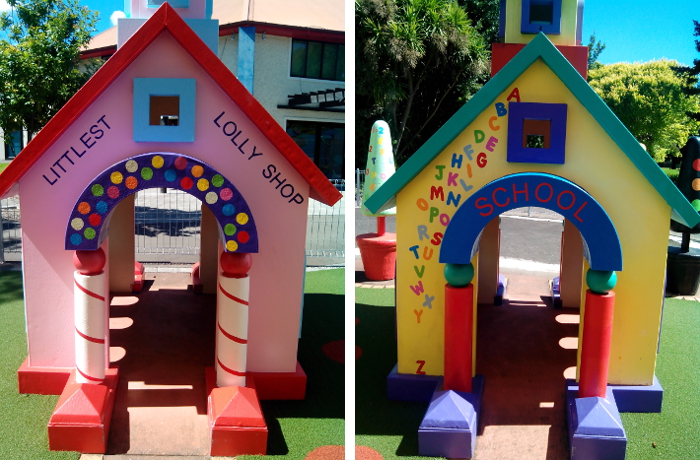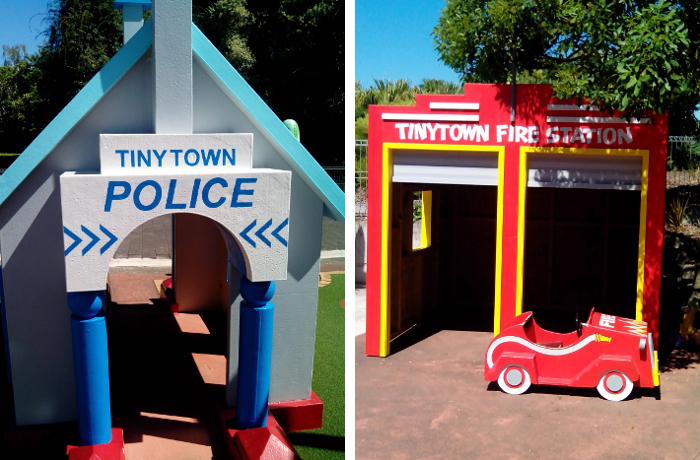 Not all the action was fast and furious.  Castor ended up really liking the kayaks after making sure he had a flat paddle instead of a skewed one.
Vega took a kayak for a spin at one stage and saw dragonflies mating down one end of the pond which she was fascinated with, as they bend their bodies to make a heart shape.
I even took Kita out with me once.  If they had had a baby-sized kayak he would be off - all he wanted to do was take charge of the paddle, which I was a tad reluctant to do in case it ended up overboard and I had to brave the algae-covered pond bottom to retrieve it.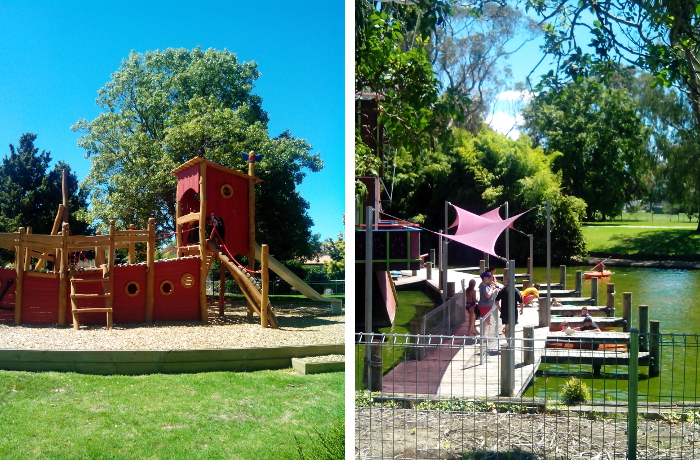 The day wouldn't have been possible without all the staff at Splash Planet.  They are everywhere!  Many of whom were just going through the motions of their job, but which made three really stand out for their kindness and humanity.
One act of kindness came from the guy manning the bumper boats when we were all there first-thing in the day.  Several of our family went on together for a first ride; and then we were able to re-group at the back of a very short line for another session.  On the second session Pollux didn't want to go out on his own so remained shore-side.  When it was time for the horn to sound the end of our ride, the young guy on duty let Pollux push the button.  Such a simple yet thoughtful gesture which he will probably never know the power of.  Pollux came away from there feeling good instead of self-deprecating, saying that next time he would go out on his own.
Another lad was doing double duty at the merry-go-round and mini golf.  Kita had never been on a merry-go-round before so I was anxious that he may not know to remain seated.  After a couple of rides alone without incident, Kita was allowed free reign to inspect the animals and objects up close.  We weren't made to feel like we should be clearing off.  We even had a brief chat with the staff member.  Being allowed to leisurely explore was really helpful to Kita; and it warmed my heart to have someone respect a child - my child (something sadly missing in many many adults these days).
The last person, was a lovely lady driving and conducting the train ride.  She had a smile that oozed warmth and seemed to really care that Kita in particular enjoyed his first experience, even if she didn't use words to express it.  I am sure if we had met her outside of work that she would be the type to give you a big hug, loads of encouragement and fresh baking.
Yes, it's people like these that really touch your heart.