What to see and do for families in Iceland
08 September 2015
As we plan for the possibility of touring through parts of Europe after our initial 3-month fixed stay in Germany, I have gathered some ideas and notes that may benefit other families even before they do us.  

Here you will find no- and low-cost activities planned for toddler to teenager and parents besides, with the odd noted ($$$) indulgence, in case the budget stretches that far at the time.

This is a work in progress that will be updated and changed as new information comes to hand.  If you've got local tips on economical places to go please be in touch.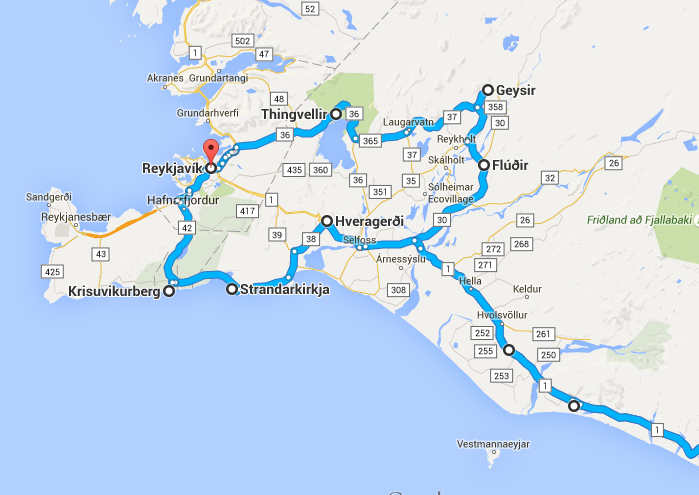 Iceland's major draw-card is all the natural beauty and geological features within close proximity to each other.  Glaciers, fumaroles, waterfalls, volcanoes, geysers and geothermally-heated water.  I was tempted to leave out some of geothermal attractions as we have these more accessible in the North Island of New Zealand (the glaciers are in the South Island) but I figure that exploration is as much about comparing and contrasting the similarities as the differences, right?
Planning to visit in winter. 5 - 6 hours of daylight on average.  You may need to get up when it's dark to drive to be at your next destination when the sun is up, to make the most of your day.
Visit intended for self-drive, self-catering and staying in cottages / AirB'n'B apartments (as the cheapest options) or hostels.
Plan on 7 days to travel the southern route from west to east and return, including the Golden Circle in the west.
Take 'camping'-style food – things that are quick & easy to prepare in a pot as stores can be few and far between on the road.  Bónus and Kronan are the cheapest supermarkets.
Credit cards with PINs are widely accepted.
If purchasing products of ISK4000 or more, see if the store will give you a tax rebate form.
Flybus is best price from the Keflavík International Airport to Reykjavík BSÍ Bus Terminal for families as children under 11 are free, 12 - 15 years are 50%, adults ISK1950 (Straeto don't charge for children 6 and under only; K-Express & Airport Express charge for each person.) Cheaper than hiring a car just to get from the airport to Reykjavík unless you are arriving early and are going to use the rest of the day for sight-seeing.
Northern Lights can be seen best every 2-3 days during winter; preferably not during a full moon and with clear skies. – IS Meterological Service.
Guide to photography in Iceland.
Beautiful photographs on Trover.
Better zoomable map of Iceland than Google.
Road conditions website.
If travelling in winter or inland, hire a 4WD and take out the extra insurance.
Iceland Search & Rescue has a Safetravel website; and phone app to proactively record your last 5 locations.
Check whether natural parks and features are still free to visit. There were moves post-2013 to allow land-owners to charge admission as a method of funding maintenance.
Flights from Oslo to Reykjavík were consistently less than London or elsewhere via Skyscanner.
Takk is thank you. Other words & phrases and pronunciations.
THINGS TO DO ALONG THE WAY:
Build a snowman / snow angels.
Get a photo with the Icelandic horses.
DAY 1 / 2 (depending on arrival on day 1) &/or last day - REYKJAVÍK
Day 3 GEOLOGY, GEOTHERMAL & WATERFALLS
Almannagjá – tectonic plates.  Visitor centre.
Haukadalur – fumaroles.
Bruarfoss in Bruara river, Grímsnes.  Lots of little water tributaries joining together horizontally into a horizontal blue waterfall.
Geysir / Stokkur – geysers.  Geysir Center a/v exhibition.  Free. Noon - 4pm, Sep - Apr.
Gulfoss - waterfall.
BONUS:
$$$ Floating in the Secret Lagoon in Fludir listening to Sigur Rós looking for the Northern Lights.
Overnight in Fludir.  [Place to buy greenhouse mushrooms.]
Day 4 MORE WATERFALLS, A POOL AND A PLANE
Drive towards Eyjafjallajökull, the central volcano that made world headlines for erupting in 2010, when ash clouds brought European air traffic to a standstill.
Seljalandsfoss  - waterfall, off route 249 - 200m along.  5 minutes further up the road is Gljúfrabúi waterfall.  You walk between 2 rocks to stand directly under it.  Take wet weather gear though.
Seljavallalaug - pool.  When driving from Reykjavík (No. 1 road), turn onto No. 242 road with sign that says Raufarfell.  Take a left towards Seljavellir  just before you reach Skógafoss. Drive to the carpark and walk a further 15 minutes to the old pool along the valley (and over a little creek).
Skógafoss - waterfall.
Just before Vík going east (after the route 221 turn off on your left, this is on the right) - Sólheimasandur.  US Navy DC3 crash.  Preferable to have an off-road vehicle.  GPS 63.459523 -19.364618
Overnight in Vík.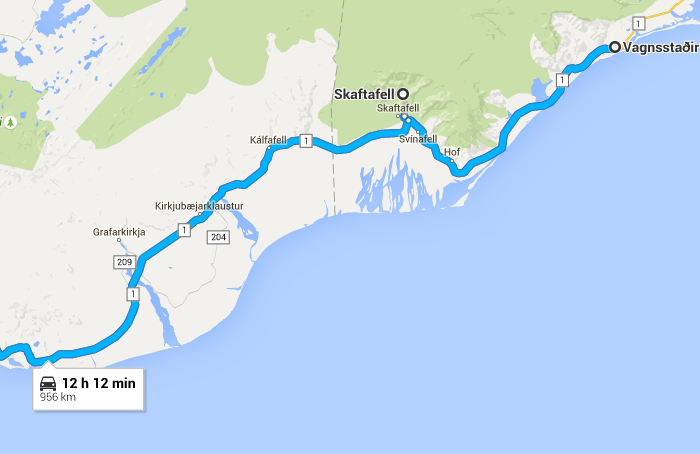 Day 5 ICEBERGS & A BLACK BEACH
Svartifoss black waterfall in Vatnaj

ö

kull National Park in Vatnaj

ö

kull National Park. 1.5 km hike from the visitor info centre (2 hours return)  Past Dog Falls then past Magnusarfoss. Or there is a car-park after the first 2 falls.  Snow shoes or microspikes may be needed in winter.
J

ö

kulsárlón - glacial lake in Vatnajökull National Park where you can see seals and floating icebergs.  On the black beach opposite icebergs often wash up on it (so you can get close up).  Take lunch to make a day of it.  Taste some glacial ice.
BONUS:
$$$ Vatnajökull skidoo tour on the glacier.
$$$ Vatnajökull ice cave tour (not suitable for under 8 year olds).
Overnight near Jökulsárlón / Hrollaugshollar (Vagnstaðir hostel).
Day 6 BACK TO BASE: YET ANOTHER WATERFALL, MORE GEOTHERMAL, A CHURCH & WILDLIFE
Take a second look at J

ö

kulsárlón.
Selfoss – waterfall.  Tomato farm - opt.  [Kerið crater. Fee IKR350 per adult.  Only Jun - Aug 9am - 9pm.  Not spectacular in winter as aqua-teal coloured water and red crater walls disappear under the snow but it's still a crater!]
Hvaergerði hot houses grow much of IS food using geothermal heat (It takes 10 - 12 mins to boil an egg in the geothermal water).  Need some sort of receptacle to do so or buy your egg from the geothermal park (open by arrangement in winter for groups only) and they will give you a stick and net to cook it with ISK100. Park entry ISK200 adults? Children free. [The visitor information centre has a glassed viewing floor showing the crack created by the 2008 earthquake.]
National Geothermal Centre, Hellisheiði [charges].
Depending on timing / inclination one could head straight back to Reykjavík instead of continuing to:
Strandarkirkja – Church of Miracles near Angels Bay.  Look up the story about this, and look out for the elf houses on the beach!  Very seldom actually open though.
Krysuvikurberg - bird cliffs, and sometimes seals (if neither have been seen already).
Day 7 REYKJAVÍK
Whatever didn't get seen or done in the first day(s).
Optional extra trip: east of Reykjavík – Hafnaberg Sea cliffs – birds and the kitsch bridge over the two tectonic plates.
SIDE NOTE: Akureyri in the north, post the 2008 economic crash decided to do something to lift the morale of it's residents.  So it changed the red traffic lights to hearts and installed a huge heart on a hill facing the city.  I thought it would be amazing to be there on Valentines Day or a wedding anniversary - if the heart was beating again.
TRAVEL CANDY:  
Age of the Vikings Oceania Cruise: London - Iceland - Greenland - Scotland - Ireland - London 
Circumnavigation of Iceland Wild Earth Travel cruise
| | |
| --- | --- |
| | |