What we'll see and do from Tuebingen
14 July 2015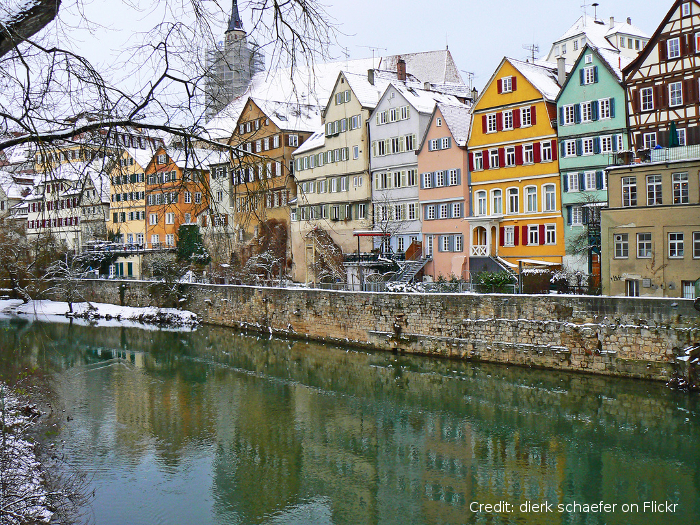 I figure with about 11-12 weeks we can comfortably see / do / experience around 20-25 family-friendly ventures within budget and without too much stress.
The interests of our family include hands-on technical & science activities (Castor, Pollux & Gemma); classical art, fashion, history (Vega);  playgrounds, animals (Gemma & Kita); vehicles - diggers / planes / trains etc (all the boys); art & architecture in general (Atlas) and anything German (me)! 
Not everyone is going to be interested in everything which means we may end up going 2 different ways some days, where it can be arranged and is safe to do so.
So here are some of my loose thoughts for our time based in Tuebingen:
Punt on the Gondola (if we get there before the season closes in October) or travel part of the Neckar, Rhein or other river
Walk & explore the city streets, castle, churches, gardens, museums etc
Get a town library card and borrow the German early readers that will help us learn the language
Watch the Duck race (Tuebingen) 10 October
Explore Tuebingen's Botannical Gardens (the oldest in the world!)
Experience a Christmas Market (Tuebingen 11-13 Dec, Esslingen (Medieval too), or Reutlingen)
Discover the vehicles at the Technik Museum (Sinsheim) or Mercedes Museum (Stuttgart)
Find the animals that we've never seen at the Wilhelma Zoo (Stuttgart)
Spy the classics at the State Art Gallery (Stuttgart &/or Karlsruhe)
Go up the viewing platform at the Stuttgart Rail Terminal, or climb the Killesbergturm to see over the city 
Go to a (Samuel Harfst / Johannes Falk / heavy metal) concert
Taste samples at the Chocolate festival (Tuebingen) 1 - 6 December
Take the train on a castle trip – Neuschwanstein, Linderhof or Hohenschwangau; or Hohenzollern and Sigmaringen; or Lichtenstein
Visiting the neighbouring town of Bebenhausen and tour the monastry before walking through the forest
Stand among the Roman ruins (Trier)
Have fun at Sensapolis (Sindelfingen)
See cuckoo clocks (Furtwangen?), try Black Forest Gateau and see some of the Black Forest (Schwarzwald) perhaps by walking up the Bad Wimpfelpfad spiral
  
 
 
Our list is by no means finalised or finished.  There's still more to research but I am happy with how it is coming together.  The last thing that I want is to arrive and potentially waste time finding out what there is to do, when we can jump right in and JUST DO IT!  
I know the boys would love to see around a factory that make electronics and one that makes construction vehicles.  
I would like try the local dishes and learn how to make the ones our family enjoys; and somehow want to measurably increase my german language ability. (If I was able to improve to a B2 level on the Common European Framework of Reference (CEFR) I'd be thrilled.) 
Finding things for all the different ages and preferences in our family to enjoy together is harder than I thought, especially when I don't know what that locals know that there is to do beyond the touristy things; and our family don't fully understand what it even means to see inside a castle or be surrounded by history older than 150 years.
LINKS FOR LIVING IN TUEBINGEN
German National Tourist Bureau 
Baden Wuerttemberg Tourist Bureau 
Tuebingen Visitor Information Centre 
Tuebingen Business Association 
Language courses: vivat lingua & Sprachinstitut Tuebingen
* As a general rule the train/transport companies and many establishments look after families in Germany offering a flexible family pass for 1-2 adults and several or all children (and sometimes even grandchildren!).  Such a breath of fresh air compared to the standard "2 adults and 2 children ONLY" mentality we have here in New Zealand.
| | |
| --- | --- |
| | |