Where will you put everything?
25 March 2014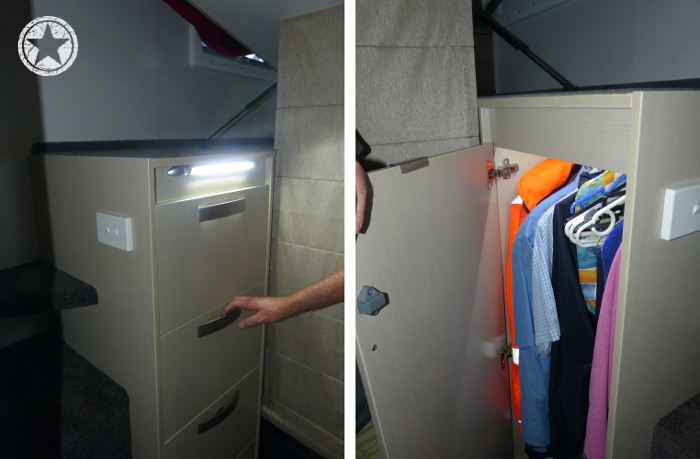 This is part nine of 'How to choose a mobile home'.
It seems almost redundant to state that space is at a premium in a mobile home, or at least it is the more people you are trying to fit into one.
Paring down what you take is one option; and making clever use of space is another.  Use 
every nook and cranny!  Horizontally and vertically.
Do you have an inventory of household items that will be coming with you on the journey?  ie kitchen equipment, linen, entertainment items, clothing, food, shoes, books etc
Take this with you as you try and mentally place each one where it may fit in the mobile home.
Looking beyond that ask yourself these questions:
Are lower storage areas bi-directional so they can be accessed from inside and outside?
Are all the storage spaces unobtrusive?  Well-shaped?
Is there space for clothes to be hung instead of just folded?
Is there a safe for valuables?
Is there a magnetic vertical door or wall to attach frequently accessed objects to?  Or a magnetic rack?
Is there wall space to use?  Can you attach objects to the solid supports behind it?
Are there items hung from the ceiling or under shelves?  Are they out of the way?
Is the kitchen cupboard/drawer space wisely & creatively used?  [If not, would a towel rail inside a kitchen cupboard help with holding lids? Or installing a wine glass rail under a shelf if the lids have knobs? What about using temporary wire shelves that hang from under fixed shelving to use any 'head space' there may be? ]
Is there storage under the seating areas?  How easy is it to get to when someone is sitting there?
Are any of the bases of free-standing chairs hinged to lift up for stashing items away? 
Does a pull-out pantry make good use of a narrow space?  Or could one be added?
Are all flat ledges being used; or could adding railings around the outside edge create a more permanent storage area?
Is the depth between step treads being used for drawers?
Are you using the full dimensions of all drawers?  If not, can you install internal drawers or vertical dividers inside drawers?
If you haven't thought about a master packing list or pantry list as some call it, now would be a good time to jot down the beginnings of one.
Why?  It will help make your holiday / adventure more enjoyable and the transition from permanent home to mobile home much less stressful.  
One typed-up laminated double-sided A4 page may be enough for some people to check off, while other families may opt for a general food & equipment list and several personal packing lists.  Whatever your system, it is better than none at all.
You could use a white board marker and circle the items needing replacing on your master list(s), get a notebook to jot down things down in or use a smart phone list application to note what you run out of while away.
Even having a specific container that you keep for home-to-home transfer is useful (think: taking the food out of the mobile home and back into the permanent home or placing items in for the mobile home without having to unlock and re-stock straight away); and you can put the lists with this for moving in either direction.
You want to make this process as painless as possible, so it doesn't taint your break.
I am the queen of lists, so needless to say we have a packing list for the few times that we get invited to stay with family and are in a position to actually get there. I wouldn't want to live without it. Not only that but we have a list detailing items that need addressing in the week before, night before, day of travel and on the way. So I am speaking from experience and sincere gratitude for a packing and inventory system. Everyone is aware of what needs to be done or packed and as the children get older this burden can be shared, so mum isn't needing a holiday before even getting on the road.
I have been contemplating assembling one or two extraneous household items to set aside in our (fictitious) mobile home stocking box. The reality is that we don't know what provisions may already be aboard our future mobile home.
So instead I will just keep making lists. You can read my tips on the kitchen equipment and food in What do I pack?
All-in-all I am excited to think of the ways that we can simplify our stuff and adapt and personalise our mobile space.   Bring it on!
| | |
| --- | --- |
| | Where would a list make a facet of your life immediately easier? |