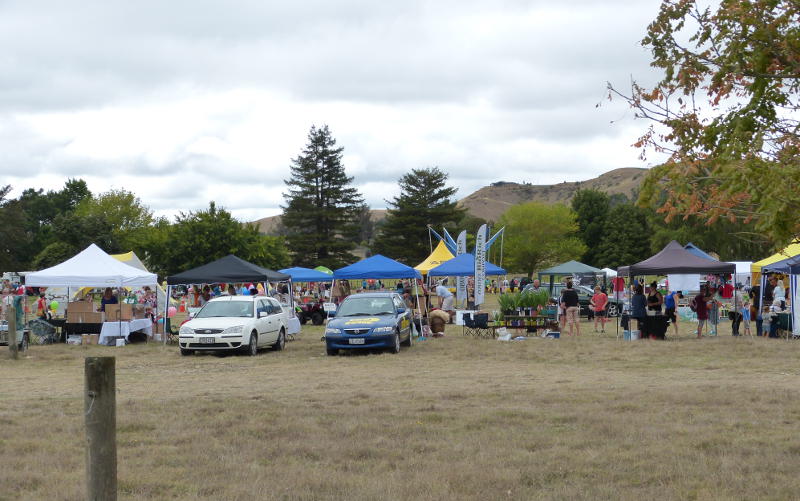 Maraekakaho is one of those blink and you miss it places.  We'd passed by on the way to Stony Creek Ranch previously but never had a reason to stop, unless photographing the war memorial for a friend counts.
So off we drove to see what there was to see.  The Market Day was certainly larger than what we had anticipated, with artisan stalls, white elephant, food & drinks, even the Civil Defence were there.
We ended up catching up with someone we hadn't seen in years, and who didn't know about Kita!  Always fun to 'shock' people!
After that, we tootled over to Whakatu, with absolutely no idea of what we would find at the 'Junk to Funk' day organised by David Trubridge Ltd, but nosey enough to want to find out.  Vega, Gemma and I were pleasantly surprised, and could have stayed longer had it not been for the boys being in tow.  People had brought 'junk' to donate to a collection of objects that anyone could then up-cycle /re-fashion into something else.  Some tools were on hand and the welder looked to be working overtime.  The creations were show-cased under a platformed gazebo and could be taken away by anyone for a donation.  It was one big huge kindergarten workshop craft area for adults.
I would usually shy away from events like this for their arty farty nature, but I was drawn to this one due to it's innovative environmental element.  It did win me over.  I also liked that Vega and Gemma could create from a variety of materials and they didn't have to follow us home.  We will certainly be looking out for the announcements of the 'Junk to Funk' days in the future, and this time I know the boys will want to join us. 
Here are some of the objects we made: