Hey!
One of the places I go for inspiration is Lookbook, a community for fashionable guys and gals around the world (literally, all over the place)
It is kind of a sophisticated, fashion forward social networking site if that makes any sense?! (minus 397,164,745 filters on images. This is mostly real photography!)
Anyway, I thought I'd note some definite trends that interested me:
1. Plaid. It is everywhere. This is not the 90's. This is not the grunge era. You look weird with a random plaid shirt tied around your waist. I like plaid, but everyone is wearing it. And it doesn't make your roots any cooler.

2. Big floppy black or maroon hats. Wool for winter, straw for summer. Now this trend I actually enjoy, it reminds me of the 70's, bell-bottoms, velvet, and long layers. Only problem is that generally the hair is long, wavy and down, which just doesn't sound easy to maintain. But for those with short hair, there is hope. If you have a fringe, then place the hat tilted up like a halo, then it looks sweet.

3. Candy coloured hair. Candy-floss pink, sky blue, and red ombre.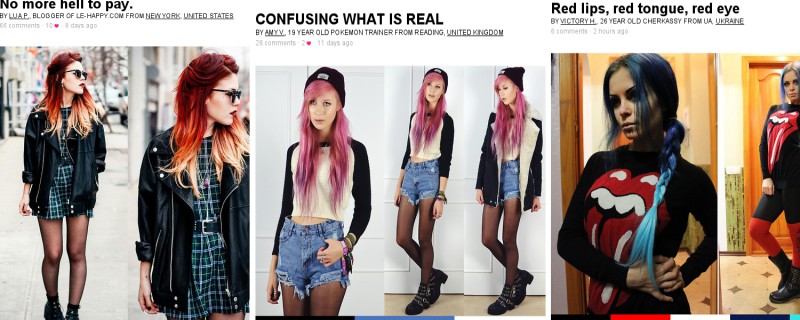 4. Leather look jackets, skinny jeans, and mini skirts.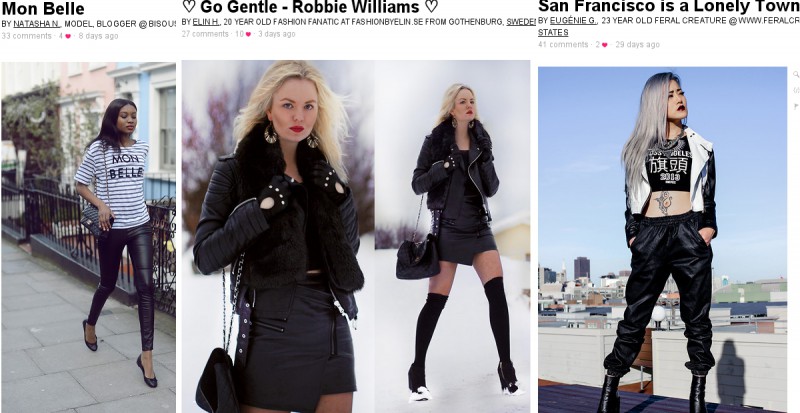 5. Round sunglasses. Originating early/mid 2012 from the Hipster/Indie Tumblr movement. I'm on the fence about these, sometimes they look great on people, sometimes they just look really weird. Depends on the face shape I suppose.

6. Super straight long hair. Inspired by Lorde and her "grunge" or "hipster" style, this look is characterized by the hair, the big hat (see 2.) and dark/black lipstick. What I don't get is the accompanying photography; okay, we get that what you're wearing is 'dark', but that doesn't mean that there has to be underdeveloped pictures, in places like your toilet. Though it's nice to know you have one, we were so worried.

7. Pastels. I don't know what I think about this. I like the pale-flowers-type colour way, but this is also a trend that easily looks insipid and washed out. Especially when worn with black. Yuck.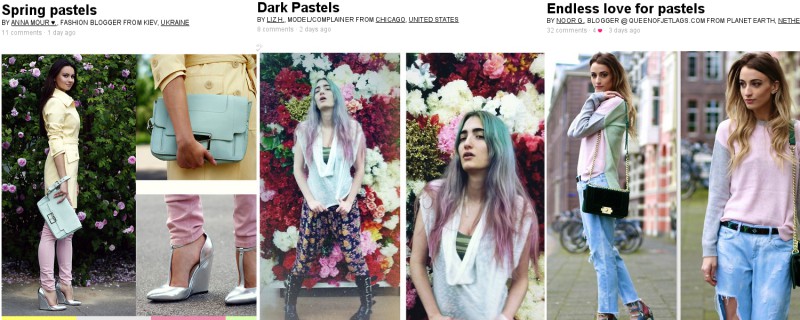 8. There also seems to be a small boho-ethnic vein running through, generally displayed in embroidered or beaded sweaters and such.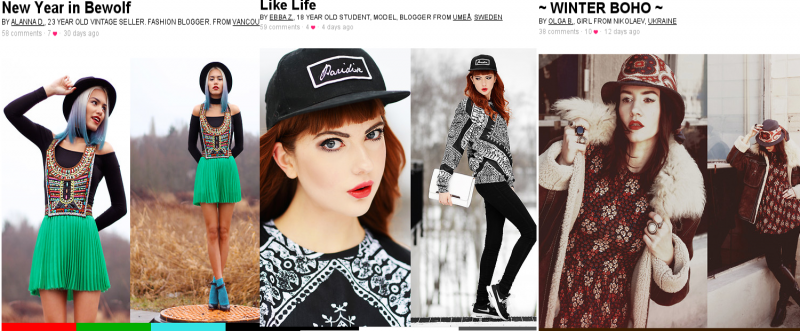 9. Boyfriend jeans. ARGH. I do not like these at all. They make girls look short (because they usually cuff them) and fat. And why do you wear them with stilettos? Just...why?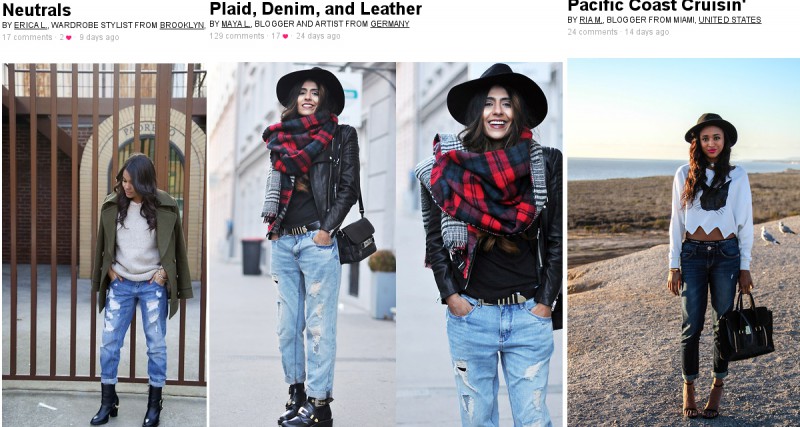 10. Shirts with small stamp-like designs (actully reminds of me of Elsa Schiaperellis lobster dress from the forties) This would be a cute DIY to do, just take a button down shirt, a stamp, and fabric paint. Carefully use the stamp, coat with paint, and apply.

People picks:
Girls
Annika Victoria. I originally came across Annikas' blog on Tumblr, The Pineneedle Collective; and I adore her sweet, wholesome almost Classic Lolita/kawaii style. Combined with her studying to be a scientist, she also sews, does DIYs and wears a myriad of rainbow coloured wigs. I like.
Adriana Gastelum. Adriana is someone who epitomises the sophisticated - but a little sexy, city woman; pairing classic pieces with daring prints and cuts.
Rachel-Marie Iwanyszyn. One of my favourites. Rachel combines casual, laid-back, fun, and eclectic styling with a gorgeous head of hair and that uh-may-zing hat. (Though looking at it, it also reminds me a bit of Puddleglum. Yeah, I'm odd.)
Alanna Durkovich. Exquisite boho pieces are thrown together with sporty, grungy, indie streetwear. And having blond hair with blue ends is just the icing on the cake really.
Maria Rondinella. Think Maria, think biker grunge+preppy+hippy = 60's princess
Angela Rozas Saiz. My inspiration go-to fashionista for bohemian chic. I first saw her through random pictures floating around Pinterest, and found her blog Madame De Rosa. Although it is in Spanish, the pictures speak for themselves, and I would (almost) kill to have her wardrobe (and her cheekbones, and her legs! Ugh!)
Sophia Mayrhofer. A incredibly well dressed Elizabeth Taylor look-a-like, Sophia has a wonderful eclectic style that never seems overdone.
Samii Ryan. A jewellery designer by trade, Samii has a neat streetstyle combining Goth, punk and -of course- loads of gorgeous bling.
Guys
Jesse Maricic. A slick 21st century gentleman, Jesse has a fantastic blend of old-world style and new-world flavours. Expect the unexpected.
Filippo Bologni. Only 20 posts, and I'm hooked. Preppy and simple, yet well thought out, Filippo makes dressing well look so easy.
Mika Kailes. Who doesn't admire a guy that can wear a floral shirt, plaid, denim and a scarf, and still look good (read: amazingly good-looking that is)
Drew Scott *cough* CUTE *cough* But seriously, this dude looks great, with a refined casual approach. I especially like this post: "Saturday School"
Ira Giorgetti Looking suspiciously similar to Nathan Sykes, Ira has the prepster/hipster trend down pat.
Andreas Wijk. Sporting smart casual wear, and an enchanting smile, Andreas has made a noticeable mark on the Lookbook world.
Erwin Bloemendal. Rocker meets Indie meets Boy-next-door, Erwin combines piercing blue eyes and chic (am I allowed to call it that?!) hair for devastating effects. (Though I have to say, I preferred it dark as opposed to his currant blond. Oh well.)
(Please note. I find most of these guys rather very handsome, especially Filippo - since he's around my age - But I still try to be unbiased...'Try' being the operative word.)
So I hope you liked this post, and maybe it'll inspire you to try something different. I won't judge you even if it's a little plaid ;)
Feel free to comment below on how I'm so wrong, and totally unhip and behind the times. But just remember, I was the cool form of uncool before uncool became a thing.1
Fashionably yours
Vega
1 Rhett & Link. Epic Rap Battle: Nerd Vs. Geek