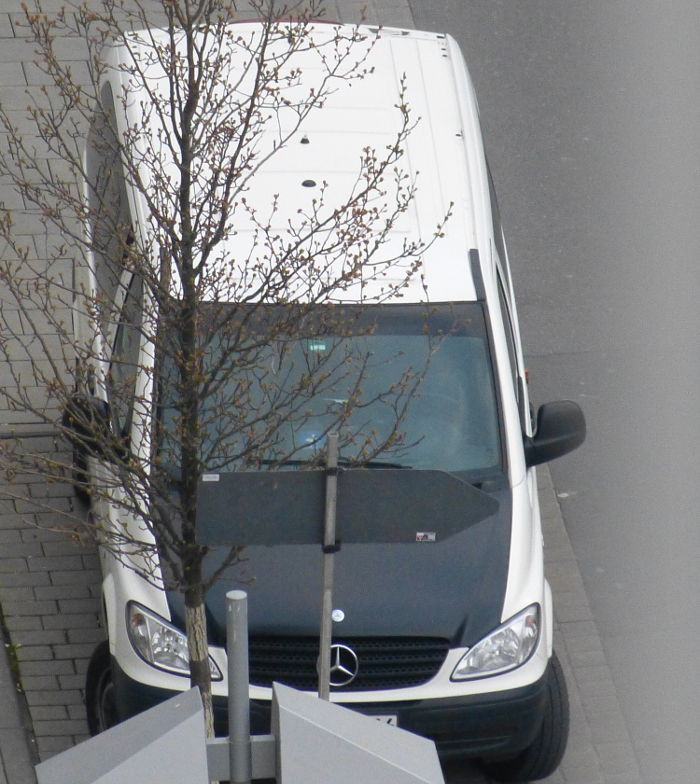 We didn't anticipate that getting our own vehicle to drive would be so difficult.
Our time in Germany could be epitomised by the domino effect.
One thing didn't happen and therefore the next couldn't either.  Or conversely one thing happened which meant something else needed to.
SEARCHING
Initially we were looking for an 'oldtimer' motorhome - something more than 30 years old that didn't have to comply with the emissions standards and therefore we could drive anywhere we wanted without restriction.  There were only 2 of these that were for sale - one needed body work straight away and didn't already have the 'oldtimer' registration; and the other wasn't well set out at all nor did we get a good feeling about the private vendor.  The reality was also that we didn't have the money or expertise to throw at something that potentially would need maintenance faster than a newer vehicle.
Then we started to look at newer motorhomes and only found about 6 (in Germany) in our price bracket so we increased our budget a bit and went to inspect one.  Sadly this was over-sold and under-delivered and didn't have the appropriate allowance to drive through the ever-increasing list of towns that demand a Euro 4 emissions standard or above.  Advice we'd received from other motorhomers was that you wouldn't want to be taking a motorhome into the big towns anyway - you park it on the outskirts and take alternative transport in.  That's okay for those who have a scooter they carry on their rear tailgate for two but didn't solve our mobility issues. Many of the motorhomes able to squeeze 7 in for sleeping only had 6 seatbelts for traveling too; and retro-fitting these is not as easy or legal as one would like to hope either.
So we turned our attention to buying a 7-seater vehicle that could tow a caravan.  This seemed to open our options up a little bit more at least as far as being able to go where we wanted, when we wanted together.  I didn't and still don't like the idea of un-hitching the caravan and leaving it at an overnight camping spot but have to hope with a few security devices we have no problems as there doesn't seem to be any other way.
Atlas found a vehicle that fitted our requirements, visited it, put a down-payment on it and the next week we were picking it up to be deposited at the mechanics yard until we got registration.
The websites that are the place to look for new and used vehicles, including motorhomes and caravans are mobile.de and e-bay.de/ebay-kleinanzeigen.de.  (Mobile.de is incidentally owned by e-bay). 
You will find both commercial and private vendors using these sites.  One thing to note is that private sellers are under no obligation to provide you with any guarantee that the vehicle will keep running.  Dealers on the other hand usually are bound to offer 24 months after sales service for a limited range of issues - some which you have to prove existed when you brought it!
REGISTRATION
The usual way to go about registering a vehicle is for one to be registered at a permanent address (more than 90 days) which requires a rental agreement or a signed form from a landlord.  We hadn't been able to get this.  
We had goverment officials suggesting that we either register at a hotel which you are not supposed to be able to do, avoiding letting them know that you had no intention of staying long-term; or at a friends address avoiding telling other government officials in that town that we had no intention of staying; register the vehicle and then unregistering ourselves the next day.  The few people that we'd relayed this to were not comfortable with it or were unsure if their contracts allowed them to technically sub-let, even though it is a fairly prolific things for Germans to do, it does carry with it a fine of EUR50,000 if you knowingly do it for someone who has no intention of staying at that address.  
Then another official suggested we register as homeless, but get this...you can't register as homeless without first being registered so you can unregister - so that wouldn't have worked.  
Yet another government employee put us on to a slightly dubious accommodation facility where they issued the necessary paperwork for registration for people known to be there less than 90 days but they were full.  Yes, we did actually explore this option.
One of the last options was to register at a real homeless shelter for a week or so to get the paperwork to say we were at this address and take it from there.
So it seemed that no-one in the whole of the European Economic Community could register a car without a fixed place of abode at some point.
None of these option seemed right to us.  The bottom line was that we wanted to do what was right and honest.  We honestly didn't have anywhere to call home and we weren't allowed to be in Germany for more than 90 days.
INSURANCE
The other part of the process of registering a car is obtaining at least the mandatory insurance (Halbpflicht = third party).
As we have always tried to be responsible for our use of vehicles on the road, having third party only insurance didn't seem quite right to us, so we intially requested a broker look at full comprehensive insurance.  Then we saw the price!  INSURANCE IS HELLISHLY EXPENSIVE in Germany and it doesn't seem fair either.  Compared to New Zealand the first policy we were quoted was 400% more expensive. 400%. Wow.
As you might have guessed, we were told you have to be registered to an address to be able to be insured too so this first quote wasn't even for us as the policy holders, it was under a German resident's name, and listed us as drivers only.  This appears to be accepted as perfectly legal with parents doing it for children etc.  The children in that instance benefit from the no claims bonus of their parent.  In our situation our car would have been seen as the German resident's 2nd vehicle and started at a measly 2 years no claims bonus discount to that end. 
None of our clean driving history would count towards the premium - the policy holder's does if at all.  You still are of no fixed abode so the only advantage that I see for insurance companies is that the responsibility for your whereabouts then falls on the policy holder.  You sign a direct debit form so the cost of the insurance is automatically deducted into the holder's account.  You are the same person (as one who might themselves want to hold a policy yourself); so in my mind this system still defies logic.
Then it gets complicated.  Sometimes you are still allowed to register your vehicle (or at least the one you paid for) in your name with the insurance in someone else's name and sometimes not.  If the later then you may feel the need to draw up a letter of ownership that acknowledges that you own the vehicle although the insurance and registration is in someone else's name.  Only the person with their name on the registration papers can sell the vehicle though so that adds another complication if like us you intend to own it for a fixed period of time and sell it thereafter.
So we decided that the only way to again, be honest, responsible and hopefully save ourselves some money (by being able to apply our no claims history) was to look for an insurance company that would work with us directly.  You have no idea how many we tried.  Local ones, national ones, UK ones, US ones, NZ ones, ex-pat ones etc.  Then we contacted the online insurer that the vendor of the vehicle used, and started the process of clarifying their policy.  They were fine with knowing that we were only at the address we used temporarily (not officially registered there) and were more focussed on it being in the same area as where the vehicle was to be registered.  They agreed to apply 10 years of our total no claims history to their policy.  We increased the forecast kilometres three-fold and they still came in at about half the price of the first one through the broker.
NO FIXED RESIDENCE
We had the insurance but still no permanent residency so seemed little further ahead to driving the vehicle we owned.
As I wasn't getting anywhere dealing with people or they were evading my questions I turned my focus to see where in the law it says you have to be registered as a person to register a vehicle.
The most pertinent one of around 5 or 6 inter-related pieces of legislation was the Fahrzeug Zulassungsverordnung (FZO) which I read several times from beginning to end, convincing myself that I had found a possible alternative (
FZO 46.2.2
) but not being sure, as I was no expert in German law let alone German language.  Oh, and you never, never, never tell a German official in any way shape or form that they don't know how to do their job!!!  EVER!  Just like you can not expect them to know anything about any related department or law as "it's not my job"!  
SUCCESS
Anyway, a kind soul in a high ranking military position started to phone various registration offices for us to sound them out; and like us were told one thing by one person and another by another, being swept up a bit in bureaucracy themselves.  Then the day came that we were both convinced that there ought to be a way forward and I should go in for the third time to the car registration office and try my luck.
The short story was that it worked.  The slightly more useful discourse was that we had to speak to the boss, and instead of applying the specific law I found chose to apply a law meant for gypsies (Landfahrer) or those without a permanent residence outside of their mobile home (ohne festen Wohnsitz).  He was the only one in the entire registration office that knew about this possibility.  The only additional document we needed was an authority to appoint a person as an agent for service (
Erklärung zum Empfangsberechtigten
) that appears as the official address in the national vehicle register.  This person agrees to forward you any mail you receive regarding the registration, taxation or fines for your vehicle in a timely manner.  We already had that form filled out, much to the utter surprise of the gentleman, as this was part of the solution I was hoping to apply.  
For the record the forms you need to register a vehicle in Germany are:
* Ownership papers part 1 & 2 (Fahrzeugpapiere Teil 1&2)
* (Electronic) insurance policy code (eVB)
* Direct debit authority for tax (SEPA für Steuer)
* Passport (Reisepasse)
* Current warrant of fitness and emissions test (HU / AU)
You will also need a set of license plates to have the official registration stickers placed on.  You can either have these pressed at any of the private plate pressing companies located near each government registration office or online prior to your visit. We already had ours.
Two weeks after our first frustrating attempt to register our vehicle we walked out with our official license plates etc to drive our own car.  It did not sink in for a while.  Someone said 'yes' and finally made it possible for us.  We had paid for the car, we had insured the car, and we had registered that car all without needing to be resident.  Who would have thought?!