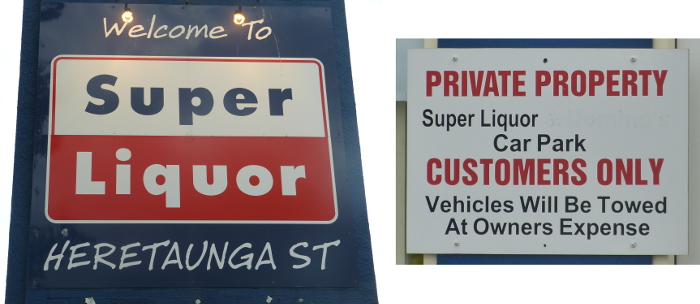 Over the last two weeks I have brought you part one and part two on proper nouns.  This is the third and last in the series.  [Yay, something a bit different next Saturday!]
 If nothing else I am sure it has opened your eyes to capitalisation errors being everywhere.  How many have you noticed as you're out and about?
Super Liquor give us two further examples of the 'trend' (it hurts to call it that) of randomly using capital letters on signs.
'To' in the first sign should have a lower case 't'.  
The second sign is curious in that it looks like a cookie cutter sign that has the business name stencilled in before sale, as it is not on the same line as the words 'car park'.  I still advocate that 'car park' requires lower case beginning letters, and the last phrase should read "Vehicles will be towed at owner's expense".  Not only using the lower case form for all but the first word, but the apostrophe instead of the plural for owner's.  Now it is totally possible that a vehicle will have more than one owner and the plural, in a minority number of cases, will apply but then that would be 'owners' ' as the expense would be on all the people who owned the vehicle.  It could also imply that as their are multiple vehicles that could be towed away that the vehicles would have a group of individual owners, but again it would be 'owners' '.  So I can't see how 'owners' is correct.   Can you explain it?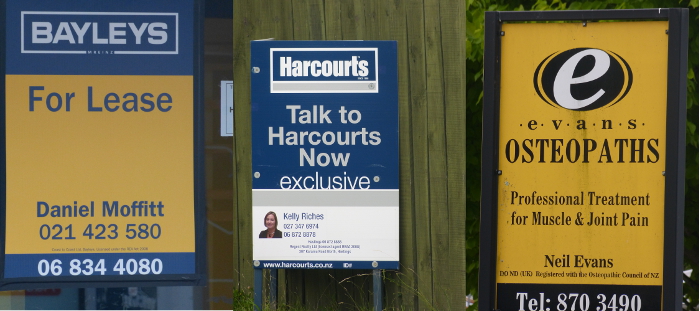 Ekkk!  Bayleys, I know you are not the only real estate company to do this, but it is "For lease".  Harcourts: "Talk to Harcourts now".  
Hopefully the osteopath won't get all bent out of joint if I suggest that his tagline should be "Professional treatment for muscle & joint pain".  He did get the small print right under his name though.  Well done!

The last in this tyrad upon the gratuitous use of capitals you could probably see in your sleep.
"The world's no. 1 selling bed" on the left and "We've moved" on the right.
Phew, made it!    Next week, we have McDonald's and KFC on our menu.