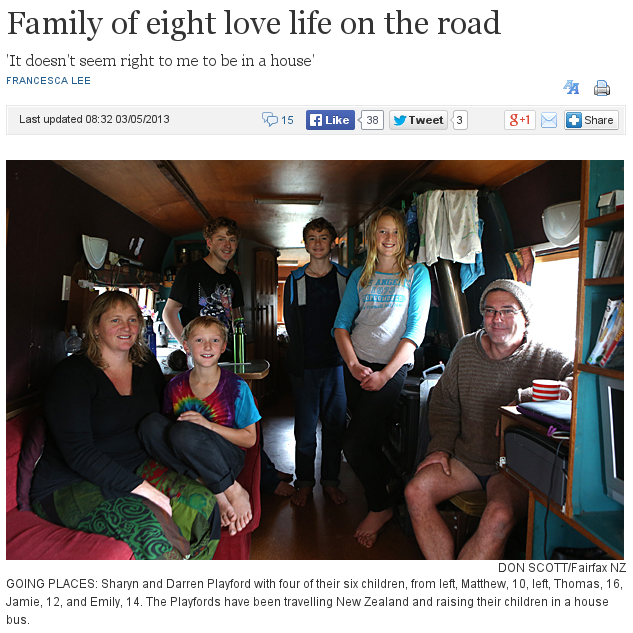 One of the biggest encouragements to us, as we look at living on the road throughout New Zealand, is meeting families who have done it.
Not just for 6 or 12 months but 10 - 15 years: raising children, cooking, cleaning, earning a living, educating their own etc.
These are the folks whose lives are more than just a proof of concept - they are the pillars of travelling (and staying sane) success.
These are the people we want to share their stories, right here; so others can be inspired to move towards their dreams too.
Just last weekend we had the privilege of a chance meeting with Sharyn at the Original Gypsy Fair.  Actually everything seemed a little co-incidental.  
Our only plans were to check out the Summerset in the Vines Fair but instead all turned up at the Gypsy Fair at the same time (the family was split between activities in 2 different towns; and had said 'no' to a third).  We casually glanced at the house buses/trucks for sale board and noted down 2 to check out later, then went off to look around together (aka play 'chase the children').  
Atlas got talking to a carver and bought a beautiful bone celtic cross necklace, in part as the carver's work generally reminded him of that which his grandfather, that he lost this year, had crafted.  While chatting away the carver recommended we talk to the lady from Pilgrim Threads as she had travelled with 6 children; so off we stomped.  Yes, SIX CHILDREN.
Then we discovered that one of the buses for sale was hers.  She was full of anecdotes and stories of her family's lifestyle that drew me closer to believing we could do this.   We even went back the next day just to talk to her again.
Beyond the technical aspects of what one will travel in, are the equally important or (to me) more important facets of everyday family life that knowing about lessens the potentially traumatic transition from a static home to one on wheels.
We also learnt that the glass-blower had travelled Australia for 13 years with their family so we called in there too, but just to ask if they would share their story.
So please folks, share your stories.  You don't know how much they support, encourage and inspire other's dreams.  Dreams that at times seem very out of reach.  
If you know of a family who have or are travelling please share this opportunity with them too.
Download our interview prompts to help you tell your story.
Image credit: The Press online